Returns
Standard Returns
If you are not entirely happy with your purchase, we will exchange or refund in full, excluding carriage, provided that the items are returned within 14 days of receipt.*
Please check the condtion of goods on arrival - we are unable to accept goods damaged during shipping after 14 days.
Returned goods must be packaged securely, with all original packaging undamaged and in a saleable condition i.e. shoe boxes must be in the same condition as when received
Goods must be unused and security seals intact.*
If you would like to return goods because they were ordered incorrectly or if clothing does not fit, return postage will be at your expense. If you would like us to replace the goods with another size or colour, we will charge carriage on the replacement.
Please be aware that some navigational and safety products may be dated, and as such a full refund may in some cases not be possible. If you are purchasing dated navigational charts we suggest you contact us for more information.
Faulty Goods
If you receive your goods and believe them to be faulty, please contact us straight away with a brief description of the problem.

Please sign in so that we can notify you about a reply
Garmin 276CX GPS - (No Charts)
f you want to experience Garmin Navigation at its best the GPSMAP
276Cx is ideal for you. This navigator provides precise navigation off
road or on water no matter where you take it. The new 276Cx adds a whole
range of high-end navigation features without limiting the original 276
experience. With a large 5'' display, enhanced sensors like
GPS+GLONASS, barometric altimeter and 3-axis compass, comprehensive
marine and outdoor features and mapping support the new GPSMAP 276Cx as a
strong successor in this legendary product line.
The True 276 Experience
The new GPSMAP 276Cx has been developed from the legendary GPSMAP 276C, which was famously the most versatile and powerful outdoor navigator Garmin ever built. To guarantee the real 276 experience Garmin kept most of the user interface the same – even the keypad is exactly as its predecessor. 276 fans will appreciate the great degree of customisability they get with their new navigator and they will be amazed by all the new features that have been added to the classic 276.
Enhanced Sensor Technology
GPSMAP 276Cx gets a comprehensive refresh on sensor technology. The device features GPS and GLONASS positioning for better performance in challenging environments; to get optimal satellite tracking in vehicle interiors add an external antenna (not included) to the built-in MCX connector. To improve situational awareness it now also has a barometric altimeter to get you smooth elevation readings and an electronic 3-axis compass to give you the right bearing under any condition – even when standing still.
Outdoor Optimised User Interface
We know how critical optimum readability is during navigation therefore we created the new GPSMAP 276Cx with a large 5" outdoor-readable display with rich colour support for better mapping display. Due to its great viewing angle it can be clearly seen from various positions. So even mounted in a cockpit, the clear visibility and button-based interface allows for safe operation even in a shaky environment, like a boat or off-road vehicle.
Rugged and Enduring
Built to Garmin's high standards this device performs under almost any conditions. It is highly durable and water rated to IPX71 thanks to a thoroughly tested tough mounting system. With more than 4 years of experience working with the Montana®, we can provide solid mounts to put on almost any vehicle or vessel out there. To provide you with even more freedom we made the device more flexible when it comes to power supply – you can either hook the device up to the power supply of your vehicle or boat or use the NiNH power pack (up to 17h of battery life) or 3 optional AA batteries (up to 9h of battery life).

More Mapping on More Memory
Almost anywhere you want to go, GPSMAP 276Cx has a compatible map to take you there. It comes with a large 8GB internal memory preloaded with a worldwide basemap, a Recreational Map of Europe and includes a free 1-year BirdsEye Satellite Imagery subscription. It also supports a variety of optional mapping, like BlueChart® g2 HD marine charts, Garmin TOPO and TOPO PRO maps, City Navigator® NT, Garmin Custom Maps and BirdsEye Select raster maps. A microSD™ slot allows you to expand the memory further to load additional mapping on it.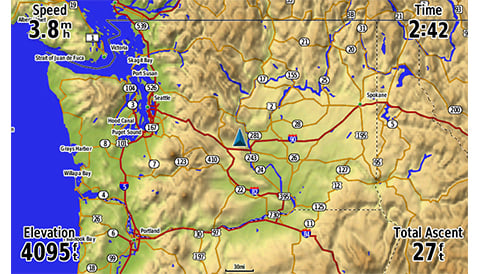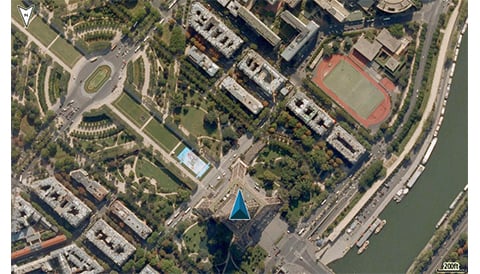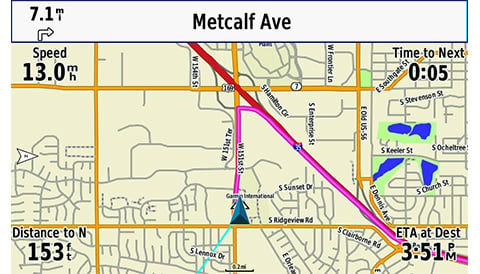 More Navigation
Together with appropriate mapping GPSMAP 276Cx offers additional navigation features such as the well-known Drive-mode for on street navigation or Curvy Road routing for motor bike riders, that highlights smaller and more fun roads to ride. Used together with TOPO PRO maps, the device can select from a number of recreational routing options that choose appropriate road classes for each activity or vehicle. And for people that prefer navigation on courses and tracks the new 276Cx also provides advanced track navigation.
Enhanced Connected Features
The new GPSMAP 276Cx also comes with a number of advanced connected features. You can connect your 276Cx via a Bluetooth headset to get TTS guidance in your helmet. Or once connected to a smartphone 2, you can receive Active Weather3 that provides weather forecast and animated Weather Radar view on your mapping screen, smart notifications like mails, SMS or social media updates or LiveTrack that allows you to share your exact location with family and friends. The device can also wirelessly connect to external sensors via ANT+ like tempe â"¢ for external temperature readings, or you can connect it to WiFi for over-the-air updates and Garmin Connectâ"¢ database syncs.
1See Water Rating
2When paired with a compatible smartphone
3Active Weather is available in the UK, Ireland, Portugal, Spain, France, Germany, Belgium, Netherlands, Luxembourg, Switzerland, Denmark, Norway, Sweden, Finland, Austria and Slovenia with partial coverage in Northern Italy.
Wi-Fi is a registered trademark of the Wi-Fi Alliance. The Bluetooth® word mark and logos are owned by the Bluetooth SIG, Inc. and any use of such marks by Garmin is under license.
IMPORTANT INFORMATION ABOUT YOUR ORDER
For all of our online products, see the following guidance:

IN STORE STOCK - These can be purchased as normal and will be dispatched from our store, usually within one working day.
CENTRAL WAREHOUSE STOCK - These can be purchased as normal and will be dispatched as within 2-3 days for smaller items and 4-5 days for large items. This allows you to have peace of mind, knowing that once ordered, the part or item you need is secured.
To allow a swift dispatch of your items, and where possible, keep IN STORE items and CENTRAL STOCK Items on separate orders.
This will allow us to quickly dispatch what we hold, rather than waiting for the CENTRAL WAREHOUSE items to be released.
We will keep you updated on any developments which may change this.